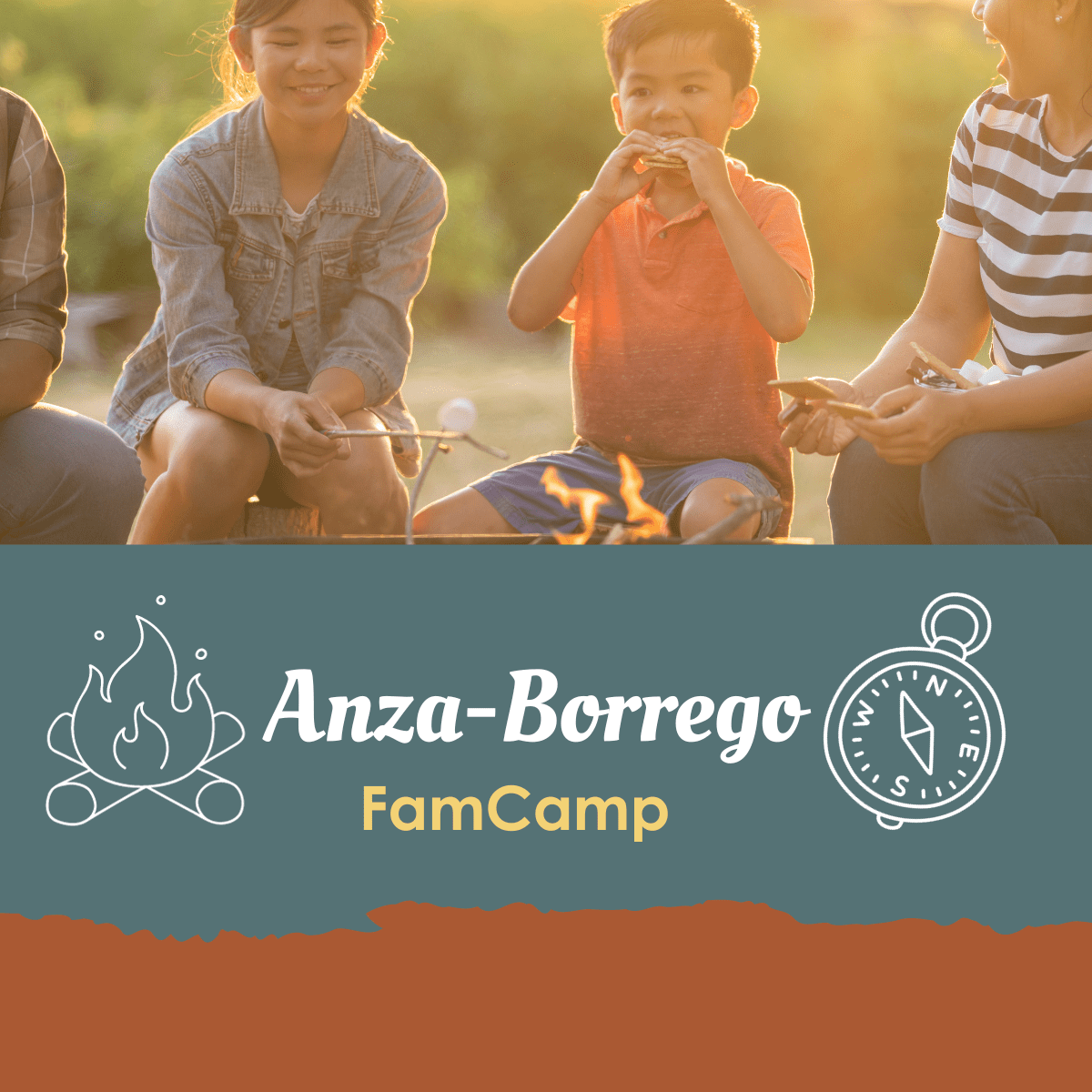 Anza-Borrego FamCamp – Free camping in Anza-Borrego!
Anza-Borrego FamCamp – Free camping in Anza-Borrego!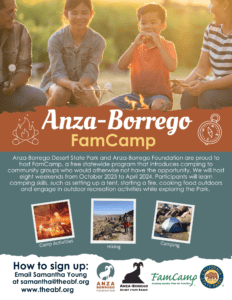 Dates: Friday – Sunday, December 8-10, 2023 (plus many more dates this season, stay tuned!) 
Start Time:  Friday, December 8 4:00 p.m.
End Time: Sunday, December 10 2:00 p.m.
 Location: Borrego Palm Canyon 
 Cost: Free! 
All equipment provided! (Including tents, sleeping bags, sleeping pads, food, cooking supplies) 
 Description: Are you Camping Curious? Have you heard about this age-old American pastime that involves sleeping outdoors, amongst the stars, hearing the coyotes in the distance and becoming one with nature?  
 Join Anza-Borrego Foundation for a FREE weekend of camping and activities in Anza-Borrego Desert State Park, with all equipment and experiences provided! You'll learn essential camping skills, such as setting up a tent, cooking food outdoors and starting a fire. We'll guide you in activities such as hiking, learning about the plants and animals and exploring the State Park Visitor's Center. You'll leave with a sense of community with your fellow campers, an appreciation for the incredible desert landscape and the confidence and resources to camp on your own. The desert is a fantastic place to learn to camp and easily accessible once you have the tools. And all for zero cost to you, due to a generous grant from the Parker Foundation.  
We welcome individuals, friends and families of all ages. We provide tents, sleeping bags, sleeping pads, all food and cooking supplies. And of course – everything you need to roast s'mores over a campfire.  
If you can't join this weekend, there are many more dates to join us Anza-Borrego FamCamp! Please fill out the form below and indicate your interest in additional dates.  
Please complete this Interest Form.   
This does not guarantee your spot for this weekend. Spaces are limited by the number of tents available. Someone from ABF will reach out to you within 48 hours to confirm your spot for this weekend or recommend other available weekends.  
More About California State Parks FamCamp: 
Beginning in 1994, this statewide program began to introduce camping to groups who would otherwise not have the opportunity to spend the night outdoors, and additionally strengthens human relationships through a new form of recreation, promotes a safe and affordable activity, and encourages the use of State Parks. FamCamp works by providing free campsites and free camping gear to community organizations running camping programs in their community. This year, Anza-Borrego Desert State Park is proud to be the newest recipient of FamCamp equipment. As the official cooperating association to the State Park, Anza-Borrego Foundation has been asked to be the community organization and operator for FamCamp in the Park.