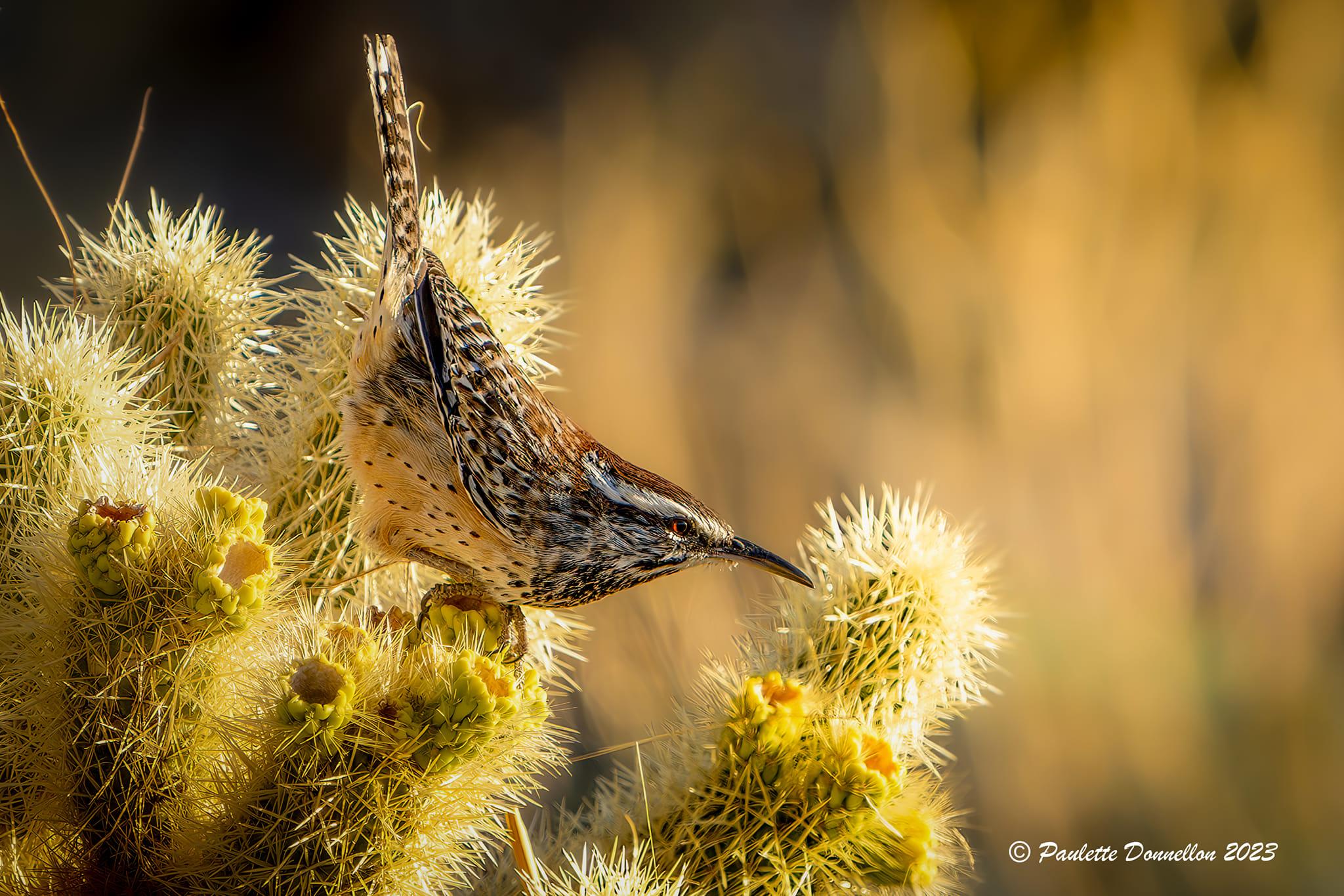 Mountain, Sea and Desert Birding Tour
Date & Time (the event is three days):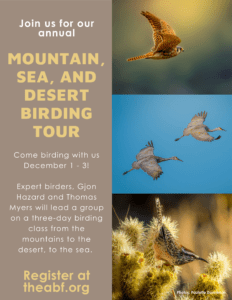 Friday, December 1st, 2023 6:00 a.m. – 3:00 p.m. 
Saturday, December 2nd, 2023 6:45 a.m. – 3:00 p.m. 
Sunday, December 3rd, 2023 6:00 a.m. – 3:00 p.m.  
Location:   
Meet at the ABF office in the Mall: 587 Palm Canyon Dr. #122, Borrego Springs, CA, 92004  
(Note: this is different from the State Park Store. The office is around the corner, next to Kendall's Café.)  We'll carpool and/or caravan to our birding locations. 
Cost:  
Non-members: $200 
Members: $175 
Students: $100  
A limited number of scholarships are available for financial hardship. If you'd like to request a scholarship, please reach out to Samantha@theabf.org with a 2-3 paragraph description about why you want to attend this class and your need for a scholarship.  
Description: Join us for a brand new iteration of the Mountain, Sea and Desert Birding Tour! We've wrangled two expert birders, Gjon Hazard and Thomas Myers, who will lead the group on a three-day birding class from the mountains, to the (Salton) sea, to the desert. Gjon and Thomas have scouted the best birding sites in the region and are eager to help you get your best bird sightings of the year. They'll also discuss ecology, conservation and taxonomy of the birds that we see, making this an all-encompassing trip that you don't want to miss. 
We will meet bright and early in the morning at the Anza-Borrego Foundation administrative office for all three days and carpool to each location. On Friday to the Salton Sea, on Saturday within Borrego Valley, and on Sunday to Cuyamaca Rancho State Park. We'll begin with a meet and greet, followed by a quick check on binoculars and a five-minute tutorial on adjusting them to your eyes. This is open to birders of all levels and abilities.  
Please bring your own binoculars and your own lunch on each day. Participants are responsible for their own lodging after we break each day at about 3 p.m. 
Itinerary: 
*Note: Specific sites at each location will be determined by your guides in advance. 
Friday, December 1st, 2023 / A Day at the Salton Sea 
6:00 a.m. – 3:00 a.m. 
Saturday, December 2nd, 2023 / Borrego Springs and Surrounding Desert 
6:45 a.m. – 3:00 p.m. 
Sunday, December 3rd, 2023 / Montane Birding 
6:00 a.m. – 3:00 p.m. 
Registration is full- please email samantha@theabf.org if you'd like to be placed on the wait list.
Class size is limited and will sell out! Please email Samantha at Samantha@theabf.org with any questions or to get help with registration. 
About The Trip Leaders: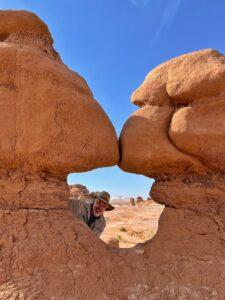 Gjon Hazard is a lifelong California birder. He has led birding tours and field trips for the San Diego Bird Festival, Western Field Ornithologists, various Audubon societies, and other groups. Gjon is also a wildlife biologist with the U.S. Fish and Wildlife Service where, for more than 20 years, he has worked with listed and at-risk plant and animal species. Prior to that, he conducted ornithological field surveys for the Smithsonian Migratory Bird Center, the U.S. Forest Service, academia, and biological consulting firms.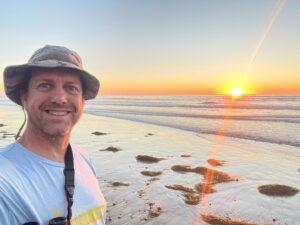 Thomas Myers has been birding for over 25 years and has led birding tours for Andiamo Travel (based out of Ensenada, Baja Norte Mexico). He has been working as a Wildlife Biologist for the San Diego Zoo, San Diego Natural History Museum and other local consulting firms concentrating on fieldwork with listed vertebrate species in the southwest including reptiles, amphibians, mammals, and of course, birds! 
Cancellation Policy
Notification must be received at least 7 days before the first day of the event if you need to cancel and wish to receive a refund. A $10 cancellation fee will be retained for each registration. For cancellations made after the 7-day deadline, we cannot issue refunds for any reason. We understand that unforeseen or emergency circumstances may arise, but our nonprofit organization operates on a limited budget and, while inconvenient, this policy enables us to sustain our programs even with last-minute cancellations. If ABF cancels a program, we will issue a full refund or credit.