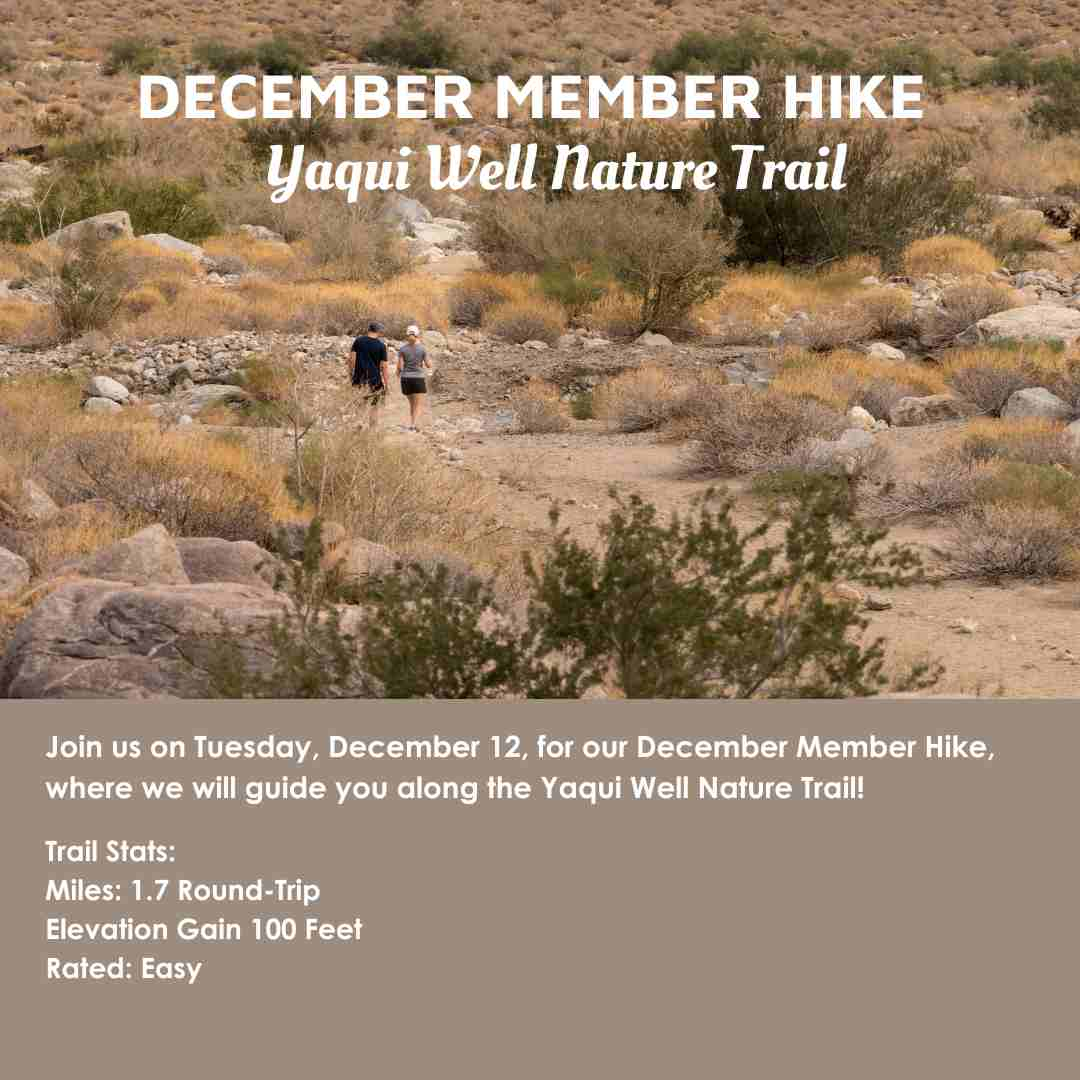 December Member Hike- Yaqui Well Nature Trail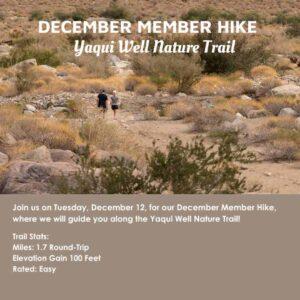 Join us for our December Member Hike, Yaqui Well Nature Trail! This trail is one of the self-guided nature trails in the Park. We will pick up a trail guide at the trailhead and follow the numbered markers along the way to learn about the history and botany of this area in the Park. If you have been waiting for an easy, leisurely hike, this is it!
Date: Tuesday, December 12, 2023
Time: 8:30 am – 12:00 pm
Stats: 1.7-miles, 100 feet of elevation gain, rated easy
Meet at:
ABF State Park Store
587 Palm Canyon Drive, Suite 110
(in The Mall next to Calico's)
Borrego Springs, CA 92004
Bring:
Sturdy Hiking Shoes
Hiking Poles Recommended
Sun Protection
Layers
Snacks
Plenty of Water
Registration starts November 12, 2023
This season, our Member Hikes will be led by some of our knowledgeable Board Members and Board Member, Sergey Kushch
will lead this hike. A little bit about Sergey:
"In my professional life, I've spent over 16 years in software development across different industries. In contrast, much of my free time is dedicated to exploring the natural world. As much as I enjoy hiking in chaparral or exploring the local mountains, I feel that Anza Borrego is a very special place. The sheer size and accessibility of the park are unlike any other in the region. The rugged landscape, endless vistas, and hidden oases offer unique opportunities to explore. I feel that supporting the Anza Borrego Foundation is the most impactful way to support the Anza Borrego Desert State Park."
Member hikes are limited to 20 people, so make sure to sign up as they always fill up fast. You must be an active member and sign up to attend the hike.
If you have any questions, please email Jaime at jaime@theabf.org. Hikes may be cancelled due to unsafe weather or road conditions with 24-hour notice.