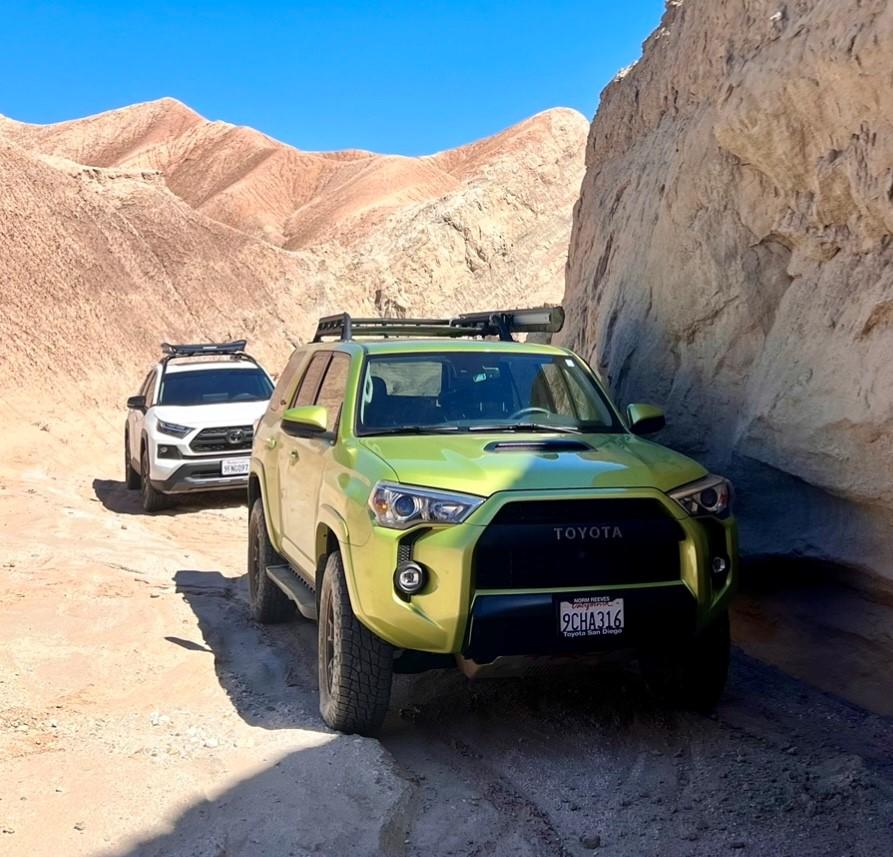 Guided 4-Wheel / All-Wheel Driving Tour
Guided 4-Wheel / All-Wheel Driving Tour
Date: Sunday, October 29, 2023
Time: 11:00 AM – 4:00 PM
Location: Meet at the ABF office in the Mall: 587 Palm Canyon Dr. #122, Borrego Springs, CA, 92004
(Not the ABF Store. The office is around the corner, next to Kendall's Café.)
We'll carpool and/or caravan as we head out on our driving adventure.
Cost per person:
Non-members: $65
Member: $55
Students: $25
Details: Join Anza-Borrego Foundation for a guided 4 Wheel Drive (or All Wheel Drive) through Anza-Borrego Desert State Park! Our group leader, Christopher Latham, will guide us on a fascinating route during this 4-hour driving excursion. Meant for those of us who are newer to "off-roading," we'll learn proper techniques for driving on loose dirt roads, tips on responsible off-roading, and the differences between ABDSP and Ocotillo Wells. We are thrilled to offer this guided driving program through the Park. Seamlessly pairing adventure in the great outdoors in a safe and respectful way while also learning in-depth knowledge about the beautiful environment that's right in our backyard.
Registration is limited to 20 vehicles, so carpooling is strongly encouraged. 4WD or AWD vehicles are required. Route details will be shared after registration.
SOLD OUT! Please email Samantha Young if you'd like to be placed on the waitlist.
About the Trip Leader:
Christopher Latham first started visiting Borrego when his parents bought what would now be called an SUV, a new 1966 International Travelall, when he was 10 years old. He has some faint memories before that but that was really started the lifetime of adventuring in Borrego. Two years later, his parents bought a 1968 CJ5 Jeep. He learned to drive in those two vehicles and quickly became one of the main drivers on trips to the desert. Before he got his own 4×4, he borrowed the Jeep many times for his own trips to Borrego. Over the almost 60 years since then, Chris has traveled most if not all the available dirt roads in the park and just outside. He has camped from the North to South end of the park. He considers it his backyard.
Chris was born in San Diego and has lived here all his life. He received a BS in applied mechanics from UCSD and went on to receive a PhD in Structural Engineering from UCSD. He recently retired from a 35-year career at UCSD as technical and overall manager of two of the Structural Engineering Research Laboratories there.
Cancellation Policy
Notification must be received at least 7 days before the first day of the event if you need to cancel and wish to receive a refund. A $10 cancellation fee will be retained for each registration. For cancellations made after the 7-day deadline, we cannot issue refunds for any reason. We understand that unforeseen or emergency circumstances may arise, but our nonprofit organization operates on a limited budget and, while inconvenient, this policy enables us to sustain our programs even with last-minute cancellations. If ABF cancels a program, we will issue a full refund or credit.
Photo: Todd Linke