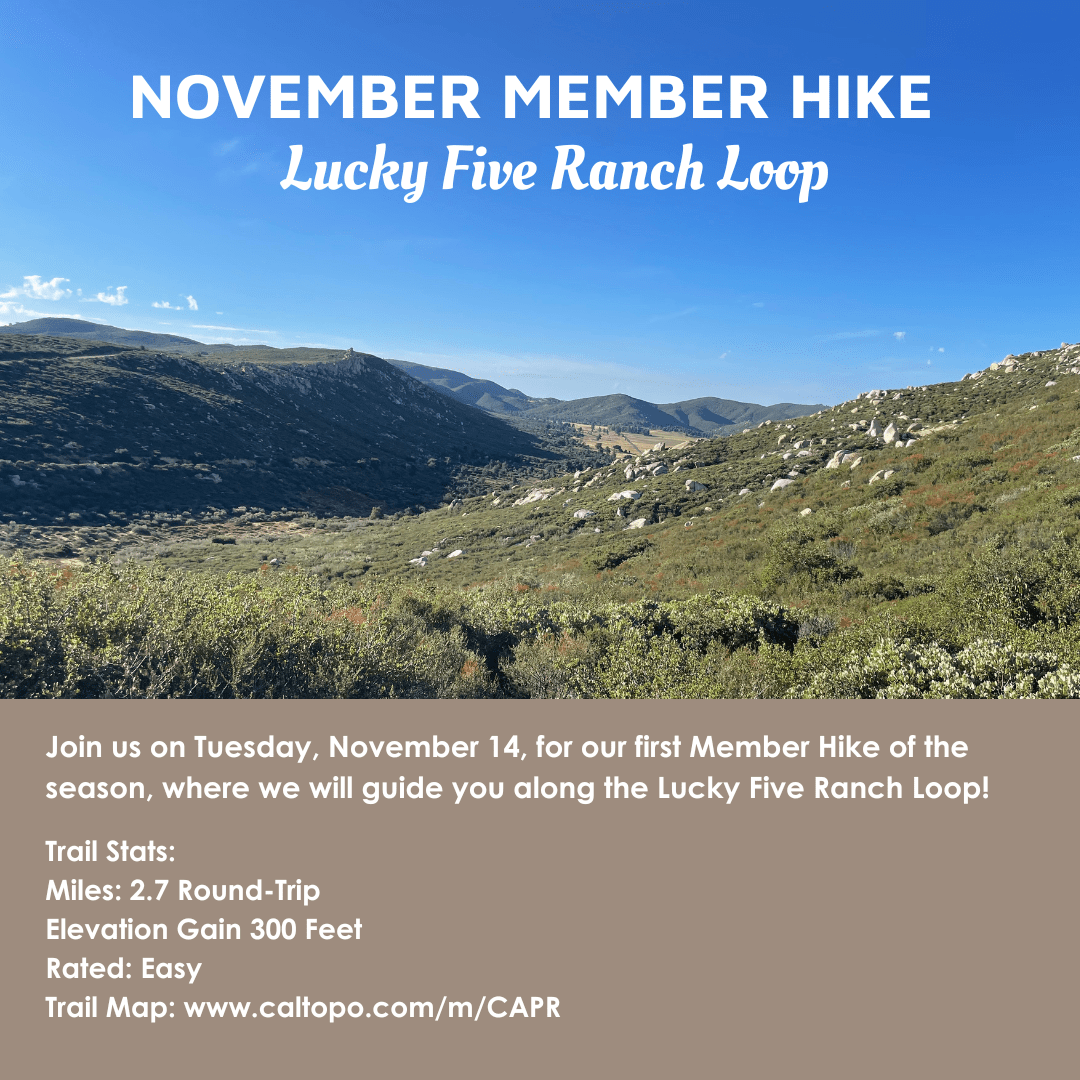 November Member Hike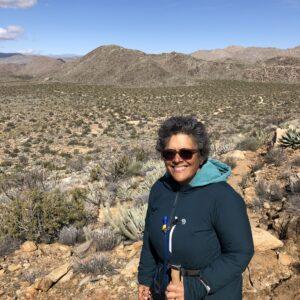 Join us for our first Member Hike of the season on the Lucky Five Ranch Loop! Located at just over 5000′ elevation, the Lucky Five Ranch Loop hike is not your average desert hike. The 2.7-mile loop is rated moderate with around 300′ of elevation gain. Hikers will experience beautiful views of the Lucky Five Ranch and the desert floor below.
In 2001, the purchase of 2,675-acre Lucky 5 Ranch created a wildlife corridor between Anza-Borrego Desert State Park and Cuyamaca Rancho State Park, a mountain habitat. Then in 2015, ABF purchased an additional 1,129.5 acres of the Lucky 5 Ranch. In total, the 4,200+ acre parcel now provides a connection between the parks and Cleveland National Forest to the south.
This season, our Member Hikes will be led by some of our knowledgeable Board Members and Board Member, Stephanie DiPalma will lead this hike. A little bit about Stephanie:
"After a long career in information technology in various management roles, I retired. My husband, Tom and I have traveled extensively in the last ten years and spent each winter "season" in Borrego Springs. We have ridden our bikes across the USA and in Europe. We enjoy cycling, hiking, going to new places, entertaining friends, and spending time with family. Anza Borrego Desert State Park is my happy place and I love giving back to the Park.
Member hikes are limited to 20 people, so make sure to sign up as they always fill up fast. You must be an active member and sign up to attend the hike.
Date: Tuesday, November 14, 2023
Time: 8:30 am – 12:00 pm
Stats: 2.7-mile loop, 300 feet elevation gain, rated easy
Meet at:
ABF State Park Store
587 Palm Canyon Drive, Suite 110
(in The Mall next to Calico's)
Borrego Springs, CA 92004
Bring:
Sturdy Hiking Shoes
Hiking Poles Recommended
Sun Protection
Layers
Snacks
Plenty of Water
Trail Map: https://caltopo.com/m/CAPR
Registration starts October 3, 2023
If you have any questions, please email Jaime at jaime@theabf.org. Hikes may be cancelled due to unsafe weather or road conditions with 24-hour notice.