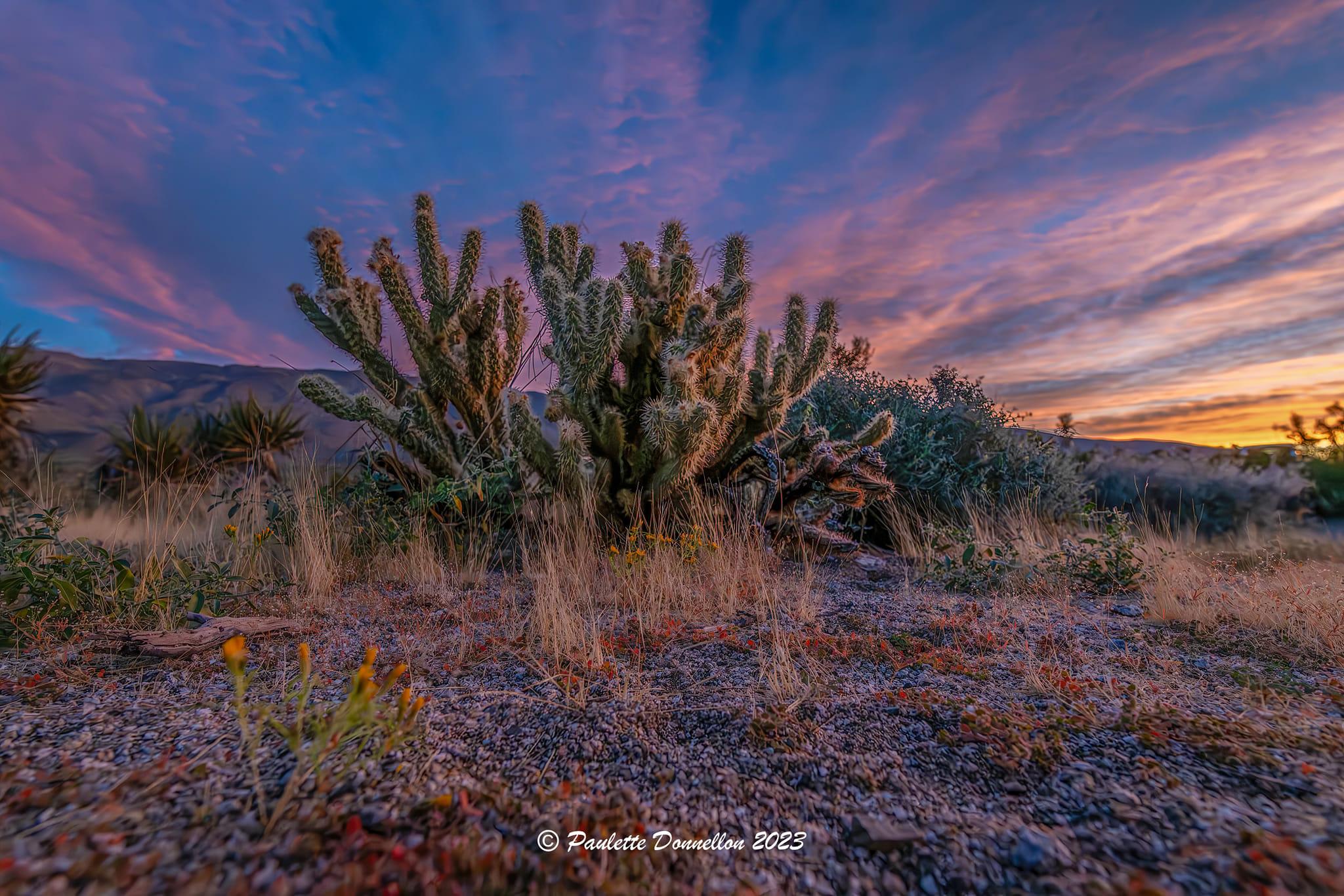 Sunrise Nature Photography Workshop with Paulette Donnellon
Date: Sunday, November 19th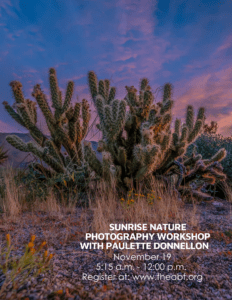 Time: 5:15AM – 12:00PM  
(Includes field trip, lunch and presentation. End time is approximate.) 
Location: Meet at ABF Office: 587 Palm Canyon Dr. #122, Borrego Springs, CA, 92004 
(Different from the State Park store, but in the same shopping center. The office is next to Kendall's Café.)   
We'll carpool and/or caravan to our field site: Plum Canyon (final destination is subject to change). 
Cost: (includes lunch) 
Non-member – $85.00 
ABF Member – $70.00 
Student – $40.00 
Description: Join us for a chance to photograph Anza-Borrego during the most magical time in the desert: sunrise. This is the workshop you've all been waiting for, a chance to learn from and photograph with award-winning photographer, Paulette Donnellon.  
We'll meet bright and early at 5:15AM to carpool and/or caravan to our field site (likely Plum Canyon) in time for the sunrise. Paulette will share with us her pro-tips for capturing on camera the personalities of animals, the intricate details of plants and the stunning landscapes of the desert.  
This is your opportunity to look at the desert like Paulette, who knows where and when to spot the perfect shot. She'll discuss the timing of certain events, including the Golden Hour and the Blue Hour, and you'll practice creating the perfect composition and cropping of photos. Paulette will also talk about safety when venturing out in the desert and how to respect all its creatures. Lastly, we'll end the workshop back at the ABF office, where lunch will be provided and Paulette will summarize all the above topics, plus how to process your photographs afterwards using various software.  
 The workshop includes lunch. Please bring plenty of water and your camera of choice, which does not need to be fancy (you could even do this workshop with a cell phone camera). There will be a small amount of hiking involved – please wear sturdy shoes and ensure you can hike at least 1 mile at a time. A high clearance vehicle is recommended but not required.  
Space is very limited! Please register in advance. 
Register Here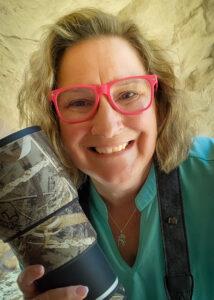 About the Workshop Leader: Paulette Donnellon is an award-winning photographer that enjoys taking pictures of nature and wildlife as a hobby.  Her image of an Eastern Collared Lizard is on the 2024 America the Beautiful National Park Pass.  When she isn't taking pictures, she is employed by LEGO® Education and in her spare time serves as a trustee for the San Diego County Board of Education. Paulette is also on the Executive Board of Anza-Borrego Foundation and incredibly knowledgeable about the flora fauna, and landscape features of Anza-Borrego.  Paulette also served nine years in the U.S. Army and was deployed during Desert Storm.  
Social media handles Twitter:  @sdpaulette & Instagram:  @photogpaulette 
Cancellation Policy
Notification must be received at least 7 days before the first day of the event if you need to cancel and wish to receive a refund. A $10 cancellation fee will be retained for each registration. For cancellations made after the 7-day deadline, we cannot issue refunds for any reason. We understand that unforeseen or emergency circumstances may arise, but our nonprofit organization operates on a limited budget and, while inconvenient, this policy enables us to sustain our programs even with last-minute cancellations. If ABF cancels a program, we will issue a full refund or credit.