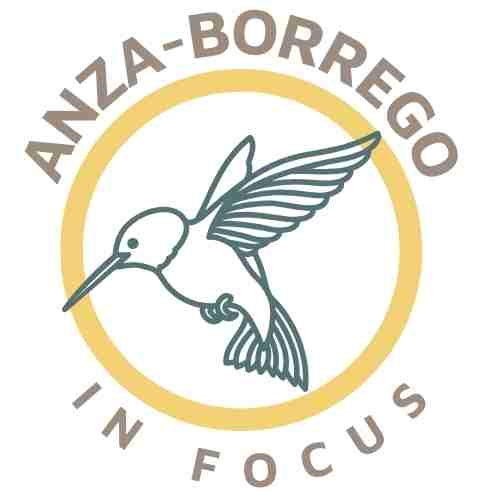 The Power of California's Lithium Valley Webinar
Date: Thursday, December 7, 2023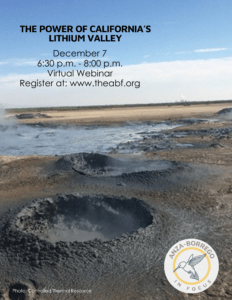 Time:  6:30 p.m. – 8:00 p.m.
Location:  Online via Zoom – Instructions to access webinar will be available after registration.
Cost:
Non-members: $15
Members: $10
Students: $5
Description: Join us for an evening lecture and Q&A online with Jim Turner to learn about the geothermal operations occurring at the Salton Sea Geothermal Field. Jim will share the background and history of the work of Controlled Thermal Resources (CTR), which claims to be the world's first Clean Energy Campus! You'll hear an overview of the project, an update on its current status, and how CTR is engaging with the community. Additionally, Jim will discuss the science behind lithium extraction as an alternative energy source and its environmental impact.  
According to Controlled Thermal Resources, this Lithium and Power project sits within the heart of one of the largest known geothermal resources in the world (the Salton Sea Geothermal Field) in Imperial Valley, California. CTR can produce battery-grade lithium in one location in a matter of hours using a fully integrated onsite process with a minimal physical footprint, no open-pit mining or evaporation ponds, no tailings or overseas processing, with near-zero carbon emissions, and powered by renewable energy and steam.  
This lecture is part of Anza-Borrego: In Focus, a lecture series which enables us to share information about the resources and activities in or around the State Park and engage the community in discussion. The topic of "green energy" impacts to our environment and is an ongoing issue, as is the impact on the community living in the environment. There will be ample time for Q & A with Jim Turner, so feel free to come prepared with questions, as we learn about and discuss this alternative energy initiative.  
Please register in advance.  Register Here
IMPORTANT: After registering, the confirmation email will provide you instructions to register your email address with Zoom, where a link to access the webinar will be emailed to you. Don't forget this additional step!
About The Presenter: Jim Turner serves as the President for Controlled Thermal Resources and has developed, built and managed geothermal operations at the Salton Sea Geothermal Field for over 30 years. He currently oversees the Operations and Revenue divisions and continues to serve as Board Director. Jim has led operations, business development, sales and engineering across diverse industries, including chemical, renewable energy and drilling. He holds a strong background in operations and safety. Jim is resourceful, people focused and a strategic thinker.