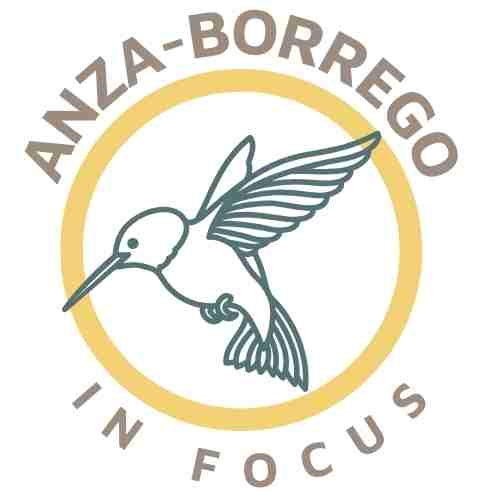 Anza-Borrego: In Focus Field Trip, An Introduction to Anza-Borrego, for Newbies or Desert Rats Alike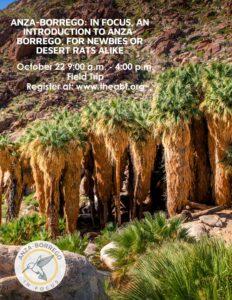 Anza-Borrego: In Focus Field Trip, An Introduction to Anza-Borrego, for Newbies or Desert Rats Alike
This field trip is part of our Anza-Borrego: In Focus series. There are also two webinars which go along with this field trip, held at an earlier date. Click here to view details about each:
The Making of a Park: The Story of How and Why Anza-Borrego Desert State Park Was Formed
Increasing Access to State Parks webinar (coming soon)
FIELD TRIP INFORMATION
Date: Sunday, October 22
Time: 9:00 a.m. – 4:00 p.m.
(Includes a one-hour lunch break. End time is approximate.)
Location: Borrego Palm Canyon and State Park Headquarters
Meet at the Borrego Palm Canyon trailhead. Please be on time – we will not be able to wait for you if you're late.
Cost:
Non-member – $55.00
ABF Member – $45.00
Student – $25.00
Details: Start this desert season off right! This full day field trip is the perfect beginning to your desert season of adventures in Anza-Borrego.
Expert guides will provide an overview of the natural history of Anza-Borrego Desert State Park and how we engage citizens in learning about and protecting this valuable resource. We'll go on a guided nature walk and tour the State Park Paleontology Lab and Herbarium. Whether you're a long-time visitor or brand new to the desert, you'll enjoy this multifaceted day led by several of the Park's most trusted advocates.
First, we'll go on a nature hike through Borrego Palm Canyon, led by Diana Lindsay, naturalist and award-winning author of more than a dozen books. Diana literally wrote the book on the Anza-Borrego Desert Region and has been exploring this Park for over 50 years. She is incredibly knowledgeable about the flora, fauna, geology, and indigenous history, as well as how Anza-Borrego became a State Park. She has a wealth of information and is a delight to hear from.
Diana will discuss factors that make Anza-Borrego a desert, strategies of survival for desert plants and animals, how indigenous communities lived and utilized the resources in this region, native versus non-native plants, how resources are currently managed, and how she helps people move beyond the image that there's "nothing in the desert."
After a relaxing lunch break, we'll go behind the scenes in State Park headquarters to tour the Paleontology lab and Herbarium. This is a rare treat, as these labs are not typically open to the public! In the paleontology lab, we'll see millions of year old specimens collected over the years and gain insight into the how fossils and bones are excavated and preserved. We'll also learn about the renowned Paleontology Citizen Science Training and Survey program.
Next, we'll visit the Herbarium, which houses and catalogs a wealth of information about the flora in the State Park, allowing researchers to maintain records and monitor changes. We'll get a behind the scenes tour of how Anza-Borrego collects and preserves plant specimens that represent this unique landscape. We'll learn about the digitized Online Herbarium Collection, which contains over 6,000 specimens that have been bar coded and included in a World Online Database.
Please bring your own lunch and plenty of water.
This field trip will cover information presented in webinars on October 12 and October 19. It is recommended that you attend these webinars in preparation for the field trip (though not required). Click here to view details about each:
The Making of a Park: The Story of How and Why Anza-Borrego Desert State Park Was Formed
Increasing Access to State Parks webinar (coming soon)
Space is limited! Please register for the field trip in advance.  Register Here
About the Field Trip Leaders:
Diana Lindsay is the author, co-author, or editor of over a dozen award-winning books. Her master's thesis from San Diego State University on the history of Anza-Borrego Desert State Park was published as Our Historic Desert by Copley Books in 1973. A few years later, she co-authored The Anza-Borrego Desert Region, a guidebook to the area and now in its 6th edition and the key resource for this desert area. Diana was the lead editor for Coast to Cactus: The Canyoneer Trail Guide to San Diego Outdoors that was originally published in 2016, served as a trustee for the San Diego Natural History Museum, and is a Canyoneer – a museum trained volunteer who leads public walks throughout San Diego County.
Diana is passionate about outdoor recreation and the conservation of our local habitats and environment. She believes in educating the public who will become the best proponents of conservation once they understand the value of what San Diego outdoors offers. For 38 years she was involved in publishing books about the natural and cultural history of this region. She was presented the Medallion Award from the State of California for her 30 years of volunteer work on behalf of Anza-Borrego Desert State Park and was named a Lifetime Member of the Anza-Borrego Desert State Park Botany Society based on her vision and leadership skills and creating excellence in education. She is also an honorary State Park Ranger.
Lyndon Murray has been the District Paleontologist of the Stout Research Center at Anza-Borrego Desert State Park since March 2011. From 2003 to 2011 he was the collection manager of the Vertebrate Paleontology Laboratory at The University of Texas at Austin, housing over 120,000 catalogued fossil specimens. From 2000 to August 2003, he managed the Vertebrate Paleontology Division at Yale University's Peabody Museum of Natural History. From 1996 to 1998 he worked as collections manager of paleontology for the San Bernardino County Museum, also managing the fossil collections at Anza-Borrego Desert State Park (where he now works) from 1994 to 1997.
He received a double BA degree in bioengineering from the Department of Applied Mechanics and Engineering Science and philosophy from the Department of Philosophy at the University of California at San Diego's Revelle College, an MS in Quaternary Studies from Northern Arizona University, Flagstaff, and a PhD in paleontology from the Department of Geological Sciences in the Jackson School of Geosciences at The University of Texas at Austin.
Cancellation Policy
Notification must be received at least 7 days before the first day of the event if you need to cancel and wish to receive a refund. A $10 cancellation fee will be retained for each registration. For cancellations made after the 7-day deadline, we cannot issue refunds for any reason. We understand that unforeseen or emergency circumstances may arise, but our nonprofit organization operates on a limited budget and, while inconvenient, this policy enables us to sustain our programs even with last-minute cancellations. If ABF cancels a program, we will issue a full refund or credit.