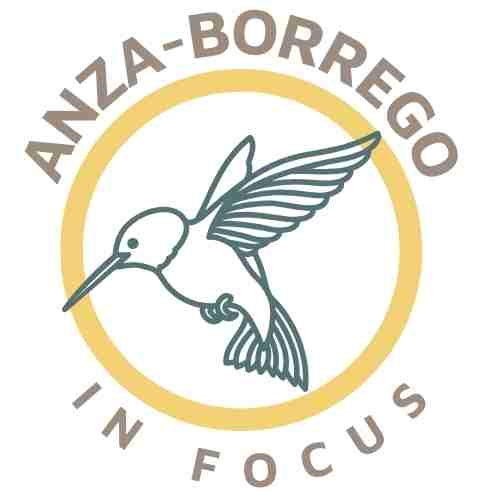 Anza-Borrego: In Focus Webinar, The Making of a Park: The Story of How and Why Anza-Borrego Desert State Park Was Formed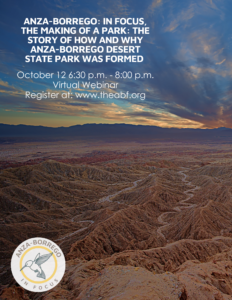 This webinar is part of our Anza-Borrego: In Focus series. There is an accompanying field trip you can register to attend on Sunday, October 22. Click here to view details about the field trip.
WEBINAR – Online
Date: Thursday, October 12, 2023
Time:  6:30 p.m. – 8:00 p.m.
Location:  Online via Zoom – Instructions to access webinar will be available after registration.
Cost:
Non-members: $15
Members: $10
Students: $5
Join us for the very first webinar of the new desert season! As part of our iconic series, Anza-Borrego: In Focus, this webinar will provide the bird's-eye view you've been looking for about Anza-Borrego. Presented by Diana Lindsay, former ABF president, founder of Sunbelt Publications, and award-winning author and photographer, Diana literally wrote the book on the Anza-Borrego Desert Region and has been exploring this Park for 50 years. She is incredibly knowledgeable about the flora, fauna, geology, and indigenous history, as well as how Anza-Borrego became a State Park. She is a wealth of information and a delight to hear from.
Diana will provide an overview of the key features of Anza-Borrego Desert State Park and the physical setting that makes it unique. She will discuss how plants and animals developed strategies to adapt to desert conditions and how indigenous communities lived and utilized the resources in this region. She will also tell the story of how visionaries came together to create this California State Park despite many challenges, many of which remain today.
You won't want to miss this expert perspective of Anza-Borrego Desert State Park! Join us for an evening lecture online followed by Q and A from the audience.
Please register in advance.  Register Here
Note: After registering, the confirmation page will provide you instructions to register your email address with Zoom, where a link to access the webinar will be emailed to you. Don't forget this additional step!
Join us for the accompanying field trip you can register to attend on Sunday, October 22. Click here to view details about the field trip.
About The Presenter:
Diana Lindsay is the author, co-author, or editor of over a dozen award-winning books. Her master's thesis from San Diego State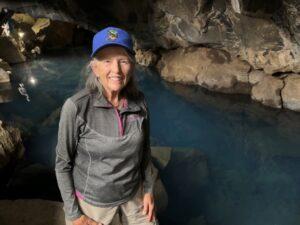 University on the history of Anza-Borrego Desert State Park was published as Our Historic Desert by Copley Books in 1973. A few years later, she co-authored The Anza-Borrego Desert Region, a guidebook to the area published by Wilderness Press in 1978. It is now in its 6th edition and remains the key resource for this desert area. Diana was the lead editor for Coast to Cactus: The Canyoneer Trail Guide to San Diego Outdoors that was originally published in 2016 and is updated with every printing. Diana served as a trustee for the San Diego Natural History Museum and is a Canyoneer – a museum trained volunteer who leads public walks throughout San Diego County.
Diana is passionate about outdoor recreation and the conservation of our local habitats and environment. She believes in educating the public who will become the best proponents of conservation once they understand the value of what San Diego outdoors offers. For 38 years she was involved in publishing books about the natural and cultural history of this region. She was presented the Medallion Award from the State of California for her 30 years of volunteer work on behalf of Anza-Borrego Desert State Park and was named a Lifetime Member of the Anza-Borrego Desert State Park Botany Society based on her vision and leadership skills and creating excellence in education. She is also an honorary State Park Ranger.