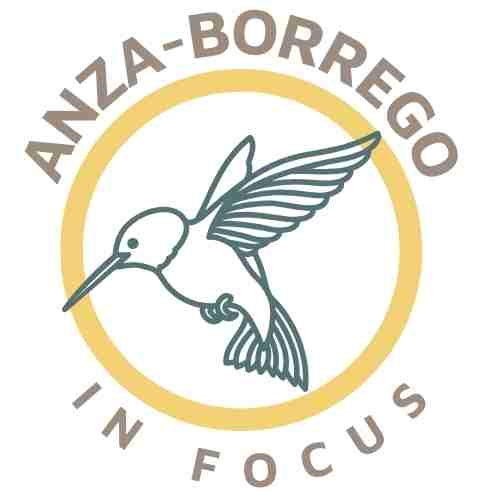 Anza-Borrego: In Focus Field Trip, Rocks, Water, and Other Inanimate Objects: Adventures in Geology and Water Resources in Anza-Borrego
Anza-Borrego: In Focus Field Trip, Rocks, Water, and Other Inanimate Objects: Adventures in Geology and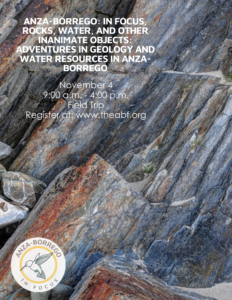 Water Resources in Anza-Borrego
This field trip is part of our Anza-Borrego: In Focus series. There are also two webinars which go along with this field trip, held at an earlier date. Click here to view details about each: 
Between a Rock and a Hard Place: Your Guide to the Geology of Anza-Borrego 
Water in the Desert?! Water Scarcity, Patterns, and Adaptations in Anza-Borrego
FIELD TRIP INFORMATION 
Date: Saturday, November 4th  
Time: 9:00AM – 4:00PM  
(Includes a one-hour lunch break. End time is approximate.) 
Location: TBD Stay tuned for updates about specific locations! 
Cost:  
Non-member – $55.00 
ABF Member – $45.00 
Student – $25.00 
Details: Join us for an adventure through time and space on this field trip that will explore the Geology and Water resources of Anza-Borrego. We will make several stops throughout the State Park, looking for different rock types, learning how to describe the layering in rocks, measuring the orientation of rocks, and making a stratigraphic column. We will also see a fault zone and describe how it affects rocks' properties and discuss how this affects water flow in the subsurface.  
Speaking of water, we will also look at the water resources of Anza-Borrego, discussing the scarcity of water and adaptations by flora and fauna to low water environments. We'll visit iconic locations that contain more water than you might expect and imagine multiple scenarios, such as drought and floods. Finally, the trip will take a landscape scale view to discuss how deformation and rock types create water features, such as marshes, in this arid environment.  
 Join ABF and San Diego State University Geology professor, Matthew Weingarten, as well as Colorado Desert District Environmental Scientist, Shannon McNeil, for a rocking field trip that is sure to make a splash.  Please bring your own lunch and plenty of water. There will be some hiking involved – please ensure you can hike 1-2 miles at a time.  
This field trip will cover information presented in webinars on October 26 and November 2. It is recommended you attend these webinars in preparation for the field trip (though not required). Click here to view details about each: 
 Between a Rock and a Hard Place: Your Guide to the Geology of Anza-Borrego 
Water in the Desert?! Water Scarcity, Patterns, and Adaptations in Anza-Borrego
Space is limited! Please register in advance.  Register Here 
About the Field Trip Leaders: 
Since late 2019, Shannon McNeil has been an Environmental Scientist for California State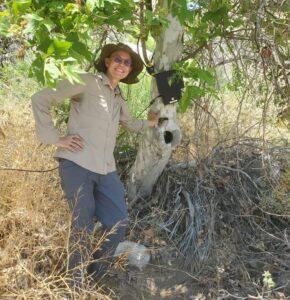 Parks in the Colorado Desert District. She has been working in wildlife research, management, and recovery for over 20 years. Starting with a degree in computer science and statistics, her interest in the natural world drew her back to school for a graduate diploma in tropical environmental management followed by certificates in ecological restoration. After working as a wildlife biologist for many years, she fell hard for yellow-billed cuckoos; for her master's thesis she studied their population genetics and has tracked many individuals from Arizona and California to their wintering grounds in central South America. 
D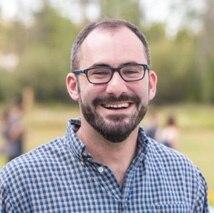 r. Matthew Weingarten focuses his research on the integrated role of fluids, faults, and stress in both natural and induced seismicity (Earthquakes). Earthquakes can be triggered by natural processes and human activities such as waste fluid injection from oil and gas operations. His research aims to better understand these phenomena through the use of hydrogeologic and geomechanical modeling to better quantify and mitigate any associated seismic hazard. 
Cancellation Policy
Notification must be received at least 7 days before the first day of the event if you need to cancel and wish to receive a refund. A $10 cancellation fee will be retained for each registration. For cancellations made after the 7-day deadline, we cannot issue refunds for any reason. We understand that unforeseen or emergency circumstances may arise, but our nonprofit organization operates on a limited budget and, while inconvenient, this policy enables us to sustain our programs even with last-minute cancellations. If ABF cancels a program, we will issue a full refund or credit.