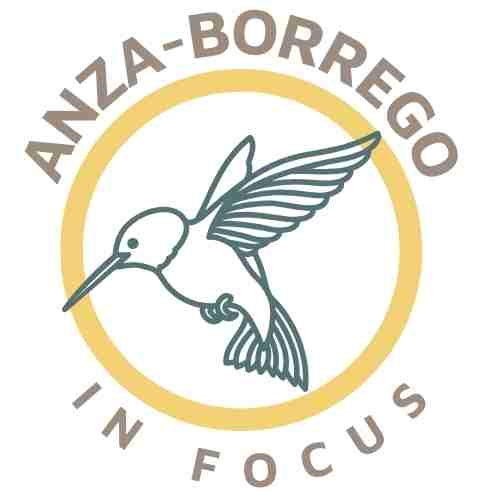 Anza-Borrego: In Focus Webinar, Water in the Desert?! Water Scarcity, Patterns, and Wildlife Adaptations in Anza-Borrego
Anza-Borrego: In Focus Webinar, Water in the Desert?! Water Scarcity, Patterns, and Wildlife Adaptations in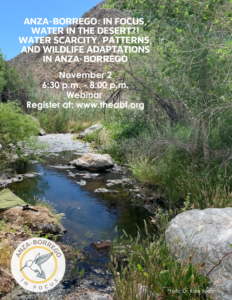 Anza-Borrego
This webinar is part of our Anza-Borrego: In Focus series. There is an accompanying field trip you can register to attend on Saturday, November 4th. Click here to view details about the field trip.
WEBINAR – Online 
Date: Thursday, November 2nd, 2023 
Time:  6:30 PM – 8:00 PM 
Location: Online via Zoom – Instructions to access webinar will be available after registration. 
Cost:  
Non-members: $15 
Members: $10   
Students: $5 
Details: Water in the Desert… Let us dip our toes into the topic of water in Anza-Borrego Desert State Park. Shannon McNeil, Environmental Scientist for the Colorado Desert District, will share with us the secrets of water in the desert. She will discuss its scarcity – why there is so little water and how it has come to be. She will provide insight into the adaptations of various flora and fauna to low water availability, including bugs, birds, bats, bighorn, and more. Shannon will divulge the patterns of water in Anza-Borrego, including its seasonality and location – essentially where and when water occurs in the Park. We will learn about the impacts of too much or too little water, including floods, drought, and climate change. And finally, Shannon will talk about the past, current, and future watershed management practices in the State Park. 
Shannon has a way with words and her dry (or wet?) sense of humor and in-depth knowledge about Anza-Borrego will surely make this webinar something you will not want to miss. Join us for an evening lecture online followed by a Q and A from the audience. 
Please register in advance.  Register Here 
Note: After registering, the confirmation email will provide you instructions to register your email address with Zoom, where a link to access the webinar will be emailed to you. Don't forget this additional step! 
 Join us for the accompanying field trip you can register to attend on Saturday, November 4. Click here to view details about the field trip.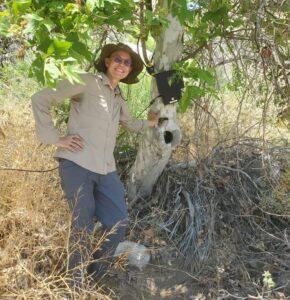 About The Presenter: Since late 2019, Shannon McNeil has been an Environmental Scientist for California State Parks in the Colorado Desert District. She has been working in wildlife research, management, and recovery for over 20 years. Starting with a degree in computer science and statistics, her interest in the natural world drew her back to school for a graduate diploma in tropical environmental management followed by certificates in ecological restoration. After working as a wildlife biologist for many years, she fell hard for yellow-billed cuckoos; for her master's thesis she studied their population genetics and has tracked many individuals from Arizona and California to their wintering grounds in central South America.