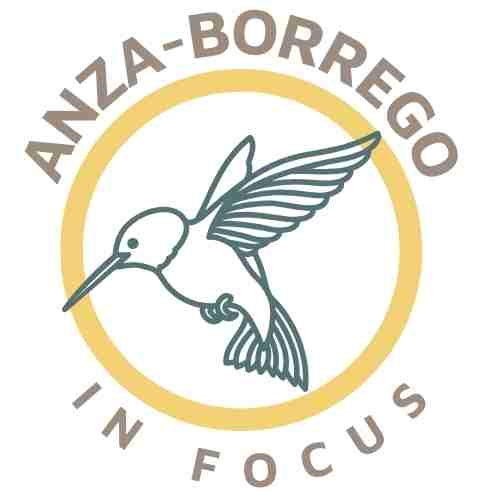 Anza-Borrego: In Focus Field Trip, Tracking Anza-Borrego's Animals
Date: Saturday, December 9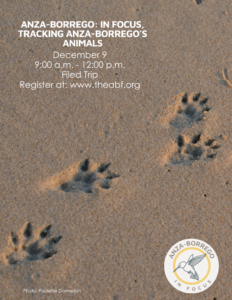 Time: 9:00 a.m. – 12:00 p.m.
(End time is approximate.)
Location: UCI Steele/Burnand Anza-Borrego Desert Research Center
401 Tilting T Dr, Borrego Springs, CA 92004
Cost:
Non-member – $45.00
ABF Member – $35.00
Student – $20.00
A limited number of scholarships are available for financial hardship. If you'd like to request a scholarship, please reach out to Samantha@theabf.org with a 2-3 paragraph description about why you want to attend this class and your need for a scholarship.
Description
Join us for an in-person field trip with Dr. Marie Simovich, professor, naturalist, and co-author of the iconic A Natural History of the Anza-Borrego Region. First, we'll start in the lab where Marie ("Ree") will give us a crash course on desert animals. We'll look at animal skeletons and discuss the adaptations required for desert survival. You won't want to miss this hands on introduction to animal structures with actual models to touch and manipulate.
Next, Ree will take us on an adventure tracking life in the desert. She'll discuss the life that is all around us and what we might see as we venture into the desert habitat. We'll become animal trackers and seek as many signs of life as we can, learning about the tracks and signs left by the animals that are hiding in plain sight. Along the way, Ree will reveal the secrets of the living communities in Anza-Borrego and how all are connected to one another. You'll gain insights to carry with you on all future hikes since you'll know what to look for.
Don't miss our last ecology field trip of the year and a chance to fill in the blanks on all of your desert adventures moving forward. Ree is an expert educator and contains vast knowledge about Anza-Borrego that you won't want to miss.
This field trip will cover information presented in a webinar on November 30. Although not required, we'd love for you to attend this webinar in preparation for the field trip. Find more details here:
The Intricate Web of Desert Organisms
Space is limited for this field trip! Please register in advance.  Register Here
About the Field Trip Leader:
Marie Simovich received her BS and MS from Cal Poly Pomona. She received her PhD from UC Riverside studying a spadefoot toad hybrid zone in the Sonoran Desert and did postdoctoral research at the Natural History Museum of Los Angeles County on the genetics of whiptail lizards of the Sonoran Desert. She then taught Population Biology, Conservation Biology and Desert Biology at the University of San Diego for 31 years. During that time she also did research on the population biology of the crustaceans found in ephemeral wetlands including desert playas.
Cancellation Policy: Notification must be received at least 7 days before the first day of the event if you need to cancel and wish to receive a refund. A $10 cancellation fee will be retained for each registration. For cancellations made after the 7-day deadline, we cannot issue refunds for any reason. We understand that unforeseen or emergency circumstances may arise, but our nonprofit organization operates on a limited budget and, while inconvenient, this policy enables us to sustain our programs even with last-minute cancellations. If ABF cancels a program, we will issue a full refund or credit.