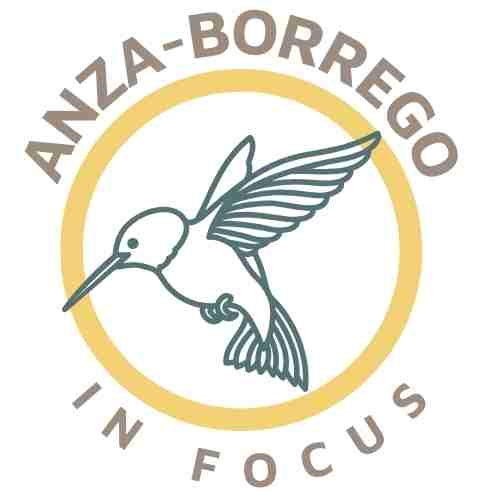 Anza-Borrego: In Focus Webinar, The Intricate Web of Desert Organisms
Date: Thursday, November 30, 2023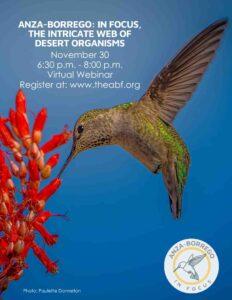 Time:  6:30 p.m. – 8:00 p.m.
 Location:  Online via Zoom – Instructions to access webinar will be sent with your confirmation after registration.
Cost:
Non-members: $15
Members: $10
Students: $5
Description: Join us for an evening lecture and Q&A with Dr. Marie Simovich, professor, naturalist, and co-author of the iconic A Natural History of the Anza-Borrego Region. Marie ("Ree") will reveal the secrets of Community Ecology in the desert – the study of how communities of organisms interact with and are affected by one another.
Living communities are made up of species with a multitude of roles (e.g. predators, prey, and pollinators), much like communities of people (e.g. teachers, plumbers, and farmers). Over time, the organisms in a community have evolved intricate relationships that allow them to live and thrive together. Ree will highlight how desert organisms interact with one another, including plant/pollinator interactions, predator/prey interactions, and adaptations such as mimicry and parasitism.
We know you've always wondered how some plants evolved to be pollinated by hummingbirds and others by bees. Or how prey have evolved to avoid predators and predators have evolved to find prey. Don't miss this opportunity to gain precious insight into the inner and outer workings of our delicate desert ecosystem.
Please register in advance.  Register Here
IMPORTANT: After registering, the confirmation email will provide you instructions to register your email address with Zoom, where a link to access the webinar will be emailed to you. Don't forget this additional step!
This webinar is part of our Anza-Borrego: In Focus series. Join us for the accompanying field trip you can register to attend on Saturday, December 9. Click here to view details about the field trip.
About The Presenter:
Marie Simovich received her BS and MS from Cal Poly Pomona. She received her PhD from UC Riverside studying a spadefoot toad hybrid zone in the Sonoran Desert and did postdoctoral research at the Natural History Museum of Los Angeles County on the genetics of whiptail lizards of the Sonoran Desert. She then taught Population Biology, Conservation Biology and Desert Biology at the University of San Diego for 31 years. During that time she also did research on the population biology of the crustaceans found in ephemeral wetlands including desert playas.