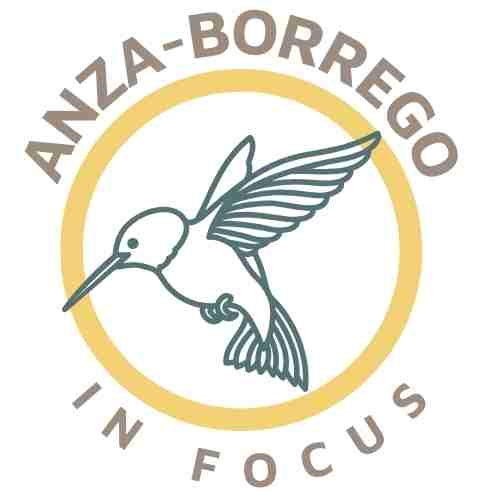 Anza-Borrego: In Focus Webinar, Between a Rock and a Hard Place: Your Guide to the Geology of Anza-Borrego
Anza-Borrego: In Focus Webinar, Between a Rock and a Hard Place: Your Guide to the Geology of Anza-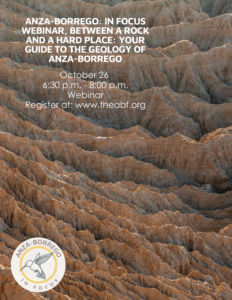 Borrego
This webinar is part of our Anza-Borrego: In Focus series. There is an accompanying field trip you can register to attend on Saturday, November 4.  Click here to view details about the field trip.
WEBINAR – Online 
 Date: Thursday, October 26, 2023 
 Time:  6:30 PM – 8:00 PM 
 Location:  Online via Zoom – Instructions to access webinar will be available after registration. 
 Cost:  
Non-members: $15 
Members: $10   
Students: $5 
Oh, did you come here looking for rock puns? Let's see what we can dig up.  
Join us for a groundbreaking webinar about Geology, as part of our iconic lecture and field trip series, Anza-Borrego: In Focus. Presented by a prolific professor from San Diego State University, Matthew Weingarten, this webinar will rock your socks off with everything you wanted to know about geology and hydrogeology. Come learn basics about the physical structures that are crucial in the formation and long-term patterns of the desert. And unlike metamorphic rocks, we won't put you under any pressure.  
Matthew will provide an overview of Geology, the science that deals with Earth's structures and substance, history, and processes, and Hydrogeology, the study of how water gets into the ground, flows to the surface, and interacts with soil and rocks. They'll break down the different types of rocks and how they form, which rocks serve as reservoirs for aquifers (and hydrocarbons), why and how rocks deform by folding and faulting, and how these features affect water storage capabilities in the sub-surface. 
Don't get left between a rock and a hard place – you won't want to miss this expert perspective of Anza-Borrego Desert State Park! And while we're sure to have a fascinating talk, please be patient with this geologist as he does have his faults. Join us for an evening lecture online followed by Q and A from the audience.  
Please register in advance.  Register Here 
Note: After registering, the confirmation email will provide you instructions to register your email address with Zoom, where a link to access the webinar will be emailed to you. Don't forget this additional step! 
Join us for the accompanying field trip you can register to attend on Saturday, November 4. Click here to view details about the field trip.
About The Presenter: Dr. Matthew Weingarten focuses his research on the integrated role of fluids, faults, and stress in both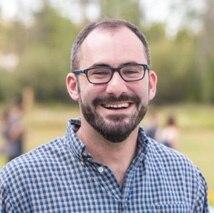 natural and induced seismicity (Earthquakes). Earthquakes can be triggered by natural processes, as well as human activities such as waste fluid injection from oil and gas operations. His research aims to better understand these phenomena through the use of hydrogeologic and geomechanical modeling to better quantify and mitigate any associated seismic hazard.