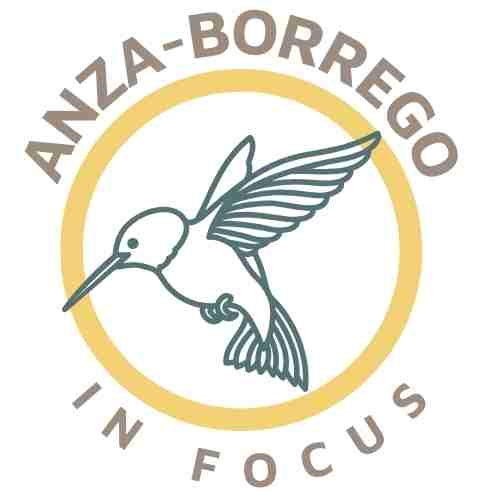 Anza-Borrego: In Focus Webinar, The Secret Lives of Plants
This webinar is part of our Anza-Borrego: In Focus series. There is an accompanying field trip you can register to attend on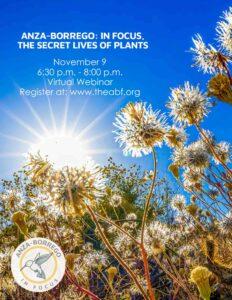 Saturday, November 18 (optional). Click here to view details about the field trip: 
Vital Resources, Conservation, and Resilient Plants in Anza-Borrego 
WEBINAR INFORMATION 
 Date: Thursday, November 9th, 2023 
 Time:  6:30 PM – 8:00 PM 
 Location:  Online via Zoom – Instructions to access webinar will be available after registration. 
Cost:  
Non-members: $15 
Members: $10   
Students: $5 
Description: Join us for an evening lecture and Q&A with Dr. Mike Wells, retired superintendent of the Colorado Desert District and prolific naturalist and co-author of the iconic A Natural History of the Anza-Borrego Region. Mike will delve into what it means to be a desert plant in Anza-Borrego – discussing the most common types, challenges, and adaptations. As you might imagine, the desert is an extremely stressful environment for plants, with a potentially deadly combination of low water and high evaporation. This formula makes acquiring and retaining water the primary challenge for desert plants. And to top it all off, desert soils also tend to be low in plant nutrients and/or highly saline, further impeding the uptake of water.  
But fear not! Desert plants are incredibly resilient and have adapted to meet these challenges. The adaptations can be morphological, referring to the shape and structure of plants, physiological, describing how life processes operate, and/or phenological, referring to the timing of life history events.  Mike will uncover the secret lives of desert plants and detail how they've evolved to have these incredible adaptations.  Don't miss the opportunity to find out everything you've always wanted to know about how plants survive and thrive in the desert! 
 Please register in advance. 
Register Here
IMPORTANT: After registering, the confirmation email will provide you instructions to register your email address with Zoom, where a link to access the webinar will be emailed to you. Don't forget this additional step! 
Join us for the accompanying field trip you can register to attend on Saturday, November 18th. Click here to view details about the field trip: 
Vital Resources, Conservation, and Resilient Plants in Anza-Borrego 
About The Presenter: 
Mike Wells completed a 34-year career with California State Parks in 2010. Through his career he was a State Park Ranger, Resource Ecologist, and a Park Superintendent. His first permanent assignment was as a patrol ranger in Anza-Borrego Desert State Park. His last assignment was as District Superintendent for Colorado Desert District which includes A-BDSP. He has a BA from UC Santa Barbara, a MA from San Diego State University, and a joint PhD from UCSB and SDSU. His area of study is the fire ecology of chaparral and conifer communities. He served as a part time lecturer from 2001-2017 in the Department of Biology at the University of San Diego.