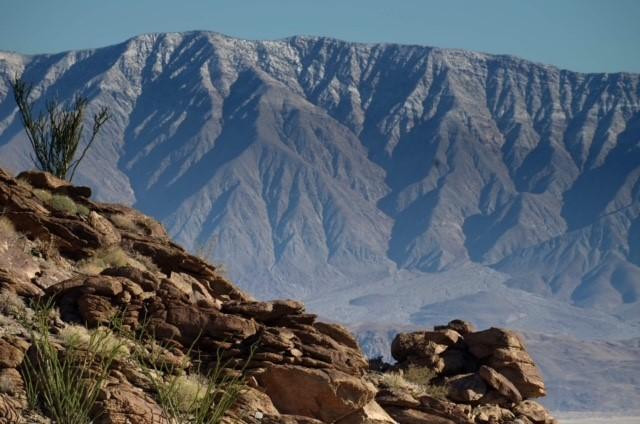 Villager Peak Adventure Hike
Date: Saturday, December 16th
Time: 6:00 a.m. – 5:00 p.m. (End time is approximate)
Location: Meet at the ABF Administrative office in the Mall: 587 Palm Canyon Dr. #122, Borrego Springs, CA, 92004   (The Administrative Office is around the corner from the State Park Store, next to Kendall's Café.) We'll carpool and/or caravan out to our hiking location.
Cost: Non-member – $45.00 ABF Member – $35.00 Student – $20.00
Note: A limited number of scholarships are available for those with financial hardship. If you'd like to request a scholarship, please reach out to Samantha@theabf.org with a 2-3 paragraph description about why you want to attend this program and your need for a scholarship.
Description:
Distance: 14.5 miles. Should take approximately 9 hours.
Elevation Gain: 5,000 Feet
Not for the faint hearted! If you're looking for a challenge to close out the year, look no further! Join avid hiker Mark Remy, State Park scientists, and Anza-Borrego Foundation on the first of our Adventure Series of hikes. We'll climb Villager Peak – a 14.5-mile out-and-back trail with an elevation gain of about 5,000 feet. The trail starts at a modest 1,000 feet above sea level and eventually makes its way to 5,756 feet above sea level. This is a well-respected and challenging route that takes an average of nine hours to complete.
We'll start our hike level on an old dirt road and make our way to cross Rattle Snake Wash. Once across, you can expect to climb about 1000 feet each hour. The ridge trail provides fantastic vistas on both sides, with Clark dry lake on the west, Rattle snake canyon on the east and later the Salton Sea on the east. You'll even see rattle snake spring on the right (east), a green spot surrounded by white rocks. The trail is clear in most places and often marked by cairns, though when in doubt, stay close to the ridge.
Note – this isn't an interpretive hike, but we'll also discuss desert and hiking safety.
We'll meet at the Anza-Borrego Foundation administration office at 6:00 a.m. to ensure we have plenty of daylight. Everyone MUST bring a head lamp just in case we end up in the dark.
Participants must be in good physical condition and able to travel long distances in the desert over rough, uneven, and steep terrain. Please assess yourself honestly! We ask that anyone with medical conditions, such as bad knees, asthma, heart conditions, back problems, or medications that can't be administered during the hike, please refrain from participating.
Leaders have the right to turn away any participant that comes unprepared for the adventure. Limited to 20 hikers.
What to bring:
Water (about 4.5 liters recommended for 9 hours of hiking)
Lunch and snacks for a long day
Clothing layers to remove – it will be cold in the morning and warm up throughout the day
Sun protection: a good hat, sunscreen, neck gator or bandana
Excellent hiking shoes or boots
Head Lamp
Hiking poles
Note on bad weather: If the forecast calls for heavy rain, thunderstorms, or high winds, the hike will be cancelled and possibly rescheduled.
Space is limited! Please register in advance.  Register Here
Cancellation Policy: Notification must be received at least 7 days before the first day of the event if you need to cancel and wish to receive a refund. A $10 cancellation fee will be retained for each registration. For cancellations made after the 7-day deadline, we cannot issue refunds for any reason. We understand that unforeseen or emergency circumstances may arise, but our nonprofit organization operates on a limited budget and, while inconvenient, this policy enables us to sustain our programs even with last-minute cancellations. If ABF cancels a program, we will issue a full refund or credit.